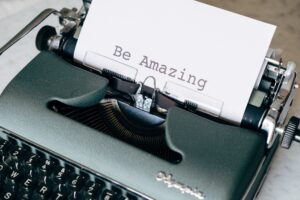 Copywriting – Content – the interchangeable terms.
Wrong!
Two entirely separate endeavors and the confusion about that has hurt businesses bottom-lines forever. 
Content is a broader term. It describes the actual wording on the page, the website, the social media post, and the blog for example.
Content is used to add "value" and gain "likes" and "shares." This will gain your followers the gurus say, which will lead to engagement and interactions and finally sales. (Notice the finally part of the sales equation.)
The problem is it does not work…
…very well at least.
How many of you have tried the content route with horrible results. You get lots of likes, shares, and hearty approbation, as Dale Carnegie would say, but no ACTUAL sales?
Content is a time trap, it is as simple as that.
Copywriting is an entirely different beast.
It has forms, themes and rules that must be adhered to for success.
It must be written in a particular way, in a particular order, with particular ingredients to be successful. But if done correctly, successful it shall be.
Most gurus are content developers at best. Professional copywriters willing to put their reputation on the line based only on results are few and far between.
Copywriting is a laser-focus on the bottom-line. 
If a piece of copy cost my client $3,500.00 and produced $5,000.00 in profit then it was a success. 
Successful copywriting comes down to the numbers. No conjecture, wooly thinking, or gray areas.
So, if you are looking for an experienced, professional COPYWRITER that can have a positive effect on your business I am your man.
The proof I know what I'm talking about, and my SHOWING you how to recognize the right copywriter (basically me) is in my 5-day "Recognizing Great Copy" email program. 
Subscribe today.
https://mailchi.mp/20a814919021/email-lander-tips
P.S  I won't try and sell you anything for at least 30 days.